One of The Best Advice on How To Build Self Esteem is...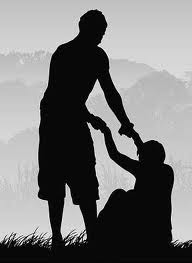 One of the best tips I can give anyone on how to build self esteem is to be a giver and BE SOMEONE WHO SERVES OTHERS.
How does being a giver and serving others help you build self esteem?
you may ask...
Nothing makes you more proud of yourself than knowing that you are making a positive difference in the lives of other people.
A lot of times, the reason people develop low self esteem is because they are too focused on themselves, their needs and what they don't yet have. When you shift the focus away from yourself and begin to look for ways to helps others, you will begin to find fulfilment in life and you will get tremendous pleasure from helping other people.
You will discover that the more you give to people, the more you serve people, the more you help people, the better you'll feel about yourself and the more your self esteem will grow, and that's why when someone asks me how to build self esteem, one of the key things I tell them to do is find ways to serve people and be of help to people.
When I discovered this method of how to build self esteem by giving and serving people, I personally started to implement it and I began to look for ways to serve people.
I began to serve people with my talents, I knew how to play the drums and I began teaching younger guys who looked up to me how to play the drums as well. One day one of them bought me a card that said "Best Teacher in The World". That gift from him not only boosted my self esteem and made me proud and feel appreciated, it also made me realise the importance of giving back and serving others with what you know. You might think what you are giving them or what you know isn't much, but you'll be surprised how much they will value it when you begin to serve it.
My wife and I also started to serve our knowledge of the bible by starting a bible study in our house. Friends would come over for the bible study and we would share with them our knowledge of the bible. To our surprise, one day while clearing up the house after the bible study, one of our friends had left a surprise gift and a card for my wife and I on the table to thank us and tell us the tremendous difference what we were teaching her had made in her life.
I nearly came to tears because I was so touched. It made us feel so good about ourselves and it made us want to give more. It was a great self esteem booster, because being appreciated makes you feel valued, it makes you feel like a person of worth and when you have those feelings of being someone valuable and worthy, it really does improve your self esteem.
You cannot begin to imagine how your self esteem and confidence will grow as you begin to serve others, with your gifts, talents, and knowledge.
ACTION POINT:
Make a list of your skills, talents, and things you are knowledgeable about and think about how you can serve people with these qualities that you have. Then go out and begin to make a difference in people's lives with your skills, talents and knowledge and watch how your self esteem transforms as people begin to appreciate the impact you are having on their lives.
How To Build Self Esteem With Site Build It.

A great way to serve others with your skills and knowledge is to use Site Build It. Site Build It is an online company that gives you the tools to serve your knowledge and skills to people around the world by creating an information website. For example, this very website you are on is an information website that I used Site Build it to create (don't worry if you don't have any web design knowledge - I had none either when I got started with site build it),
Through this website I am able to serve others by sharing with them information on how to build their self esteem and confidence. Site build it helps me optimise my site so that when people are searching in Google, yahoo, bing etc for information on how to build self esteem, they find my site and as they read and use the information on my site, their lives are changed, they begin to feel better about themselves and they send me emails telling me the difference this website has made in their lives. In turn, my confidence and self esteem is also built from the knowledge that I have touched someone's life and made a difference.
Not only that,
So not only are you serving others and making a difference, you will also be making money as well. Some people have found that they have been able to say good bye to their 9-5 because their Site Build It website was generating more than enough income for them.
You too can get started, making a difference in people's lives with what you know, and serving others through your own website. You don't have to talk about how to build self esteem like me, you can use your website to share knowledge about the things you know, love and are passionate about.
Maybe you know how to fix cars, or you have excellent tips on how lose weight and eat healthy, maybe you are an expert parent and have fantastic tips on how to raise children. Whatever your knowledge and passion is, Site Build It can help you transform it into a website that serves people and makes a difference in people's lives, those people in turn will love and value you for the difference you are making in their lives and your self esteem will be built in the process - Plus the added value that you will also be making money!
Start making a difference in people's lives round the world with your skills and knowledge, start serving people with your site build it website today.