The Best Self Esteem Definition on the Web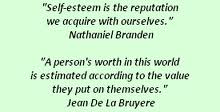 If you have read my what is self esteem page you would have come across my self esteem definition - which I consider to be the best definition of self esteem by the way, even if I do say so myself :o) , but just in case you haven't read it here is how I define self esteem:

"The perception you hold about yourself, how you feel about yourself as an individual, the beliefs you have about yourself with regards to what you can achieve, and your ability to deal with the daily pressures of life." - pretty comprehensive definition dont you think?
But just in case you are not happy with my definition (which would be absolutely unthinkable), Here are some other self esteem definitions that are almost as good as mine ;o)
Some deep PhD, level type definitions and some basic everyday no fluff definitions - read through them and see which ones you like best.
Dr Nathaniel Branden PhD, defines self esteem as "the disposition to experience oneself as being competent to cope with the basic challenges of life and being worthy of happiness" - source The Self Esteem Book by Dr Joe Rubino
Here is a self esteem definition by Karl Perera of more-selfesteem.com "Self esteem is your opinion of yourself. High self esteem is a good opinion of yourself and low self esteem is a bad opinion of yourself." - I love it!
Jenny Charles MBSCP says "Self esteem is how much you value yourself and how important you think you are. It's knowing you are worthy of love and respect and accepting your limitations and boundaries. its how you see yourself and how you feel about your achievements." - source counselling-directory.org.uk
Theses two self esteem definitions are from dictionary.reference.com

1. "a realistic respect for or favorable impression of oneself; self-respect."
2. "an inordinately or exaggeratedly favorable impression of oneself."
Another definition by Joan and Susyn of self-esteem-experts.com "self esteem is a reflection of what you think and how you feel about yourself."
Here's the definition from Wikipedia "Self-esteem is a term used in psychology to reflect a person's overall evaluation or appraisal of his or her own worth. Self esteem encompasses beliefs and emotions"
Okay let me give you one more, this one is by my wife Faith "self esteem is an estimation of yourself, a calculation of what you think you are worth, how you view yourself, how you hold yourself and your overall self image" - as you can tell, my wife is a genius :o)
Okay hope you enjoyed reading those definitions, if you have any you want to share, email them to me through the contact us page and I'll add it.